INSPIRED LAUNCHES STACKED VALENTINE HEARTS™, AN ONLINE & MOBILE SLOT GAME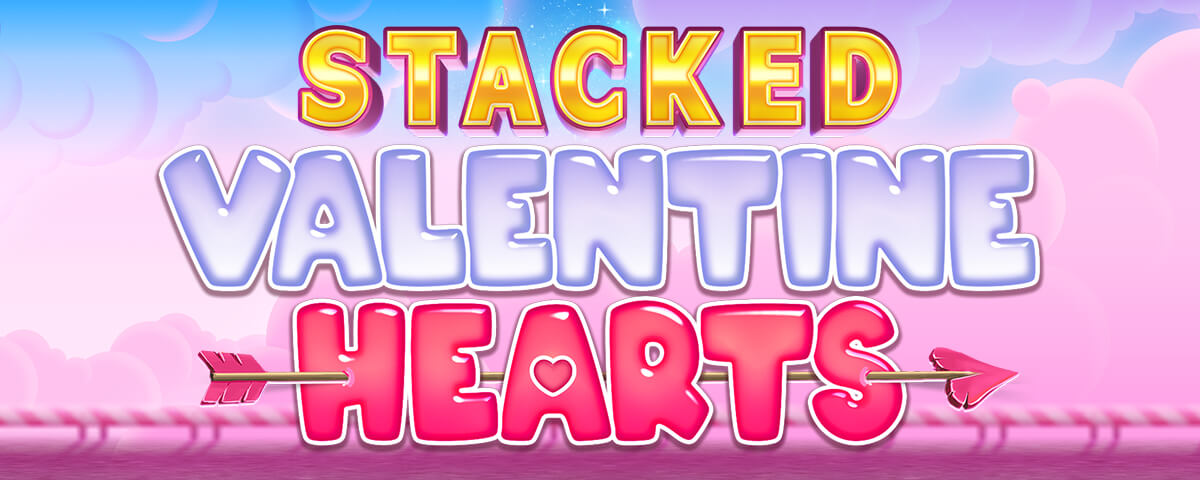 Monday, 1st February 2021 – Inspired Entertainment, Inc ("Inspired") (NASDAQ: INSE) is pleased to announce the launch of Stacked Valentine Hearts™, a Valentine's Day-themed slot game, available online and on mobile.
Celebrating all things love, Stacked Valentine Hearts is a 5X4 reel, 40-line slot game, offering players an entertaining igaming experience including wilds, mega bonuses and huge potential wins.
With its straight-forward and seamless interface, Stacked Valentine Hearts features a Free Spins bonus round. Players who enter; are awarded with eight Free Spins featuring the four highest paying symbols: Wild, double red hearts, double purple hearts and the double orange iridescent hearts struck with Cupid's arrow.
Claire Osborne, VP Interactive at Inspired said: "Stacked Valentine Hearts is a vibrant and cheerful game set to uplift people's spirits and get them in the mood for love. Emulating the gameplay of Gold Cash Free Spins™, one of our most popular and highest-performing games of 2020, this game delivers bags of enjoyment and rewards. Its robust mechanics, colourful icons and seasonal theme will have players engaged and highly entertained throughout the season of romance and beyond."
Stacked Valentine Hearts, with its vibrant and enchanting love symbols has a return to player (RTP) rate of 95%, offering players a good chance of big bonuses and big cash prizes.
Head over to Inspired's website to sample Stacked Valentine Hearts here: https://inseinc.com/interactive/games/stacked-valentine-hearts/
For all of Inspired's other online and mobile games, head here: https://inseinc.com/interactive/games
Ends
About Inspired Entertainment, Inc.
Inspired offers an expanding portfolio of content, technology, hardware and services for regulated gaming, betting, lottery, social and leisure operators across retail and mobile channels around the world. The Company's gaming, virtual sports, interactive and leisure products appeal to a wide variety of players, creating new opportunities for operators to grow their revenue. The Company operates in approximately 35 jurisdictions worldwide, supplying gaming systems with associated terminals and content for more than 50,000 gaming machines located in betting shops, pubs, gaming halls and other route operations; virtual sports products through more than 44,000 retail channels; digital games for 100+ websites; and a variety of amusement entertainment solutions with a total installed base of more than 19,000 devices.  Additional information can be found at www.inseinc.com.
Forward-Looking Statements
This news release contains "forward-looking statements" within the meaning of the "safe harbor" provisions of the U.S. Private Securities Litigation Reform Act of 1995. Forward-looking statements may be identified by the use of words such as "anticipate," "believe," "expect," "estimate," "plan," "will," "would" and "project" and other similar expressions that indicate future events or trends or are not statements of historical matters. These statements are based on Inspired's management's current expectations and beliefs, as well as a number of assumptions concerning future events.
Forward-looking statements are subject to known and unknown risks, uncertainties, assumptions and other important factors, many of which are outside of Inspired's control and all of which could cause actual results to differ materially from the results discussed in the forward-looking statements. Accordingly, forward-looking statements should not be relied upon as representing Inspired's views as of any subsequent date, and Inspired does not undertake any obligation to update forward-looking statements to reflect events or circumstances after the date they were made, whether as a result of new information, future events or otherwise, except as required by law. You are advised to review carefully the "Risk Factors" section of Inspired's annual report on Form 10-K for the fiscal year ended December 31, 2019 and Inspired's quarterly report on Form 10-Q for the quarter ended June 30, 2020, which are available, free of charge, on the U.S. Securities and Exchange Commission's website at www.sec.gov and on Inspired's website at www.inseinc.com.
Claire Osborne, VP of Interactive at Inspired speaks to Slotsmate.com about Stacked Valentine Hearts and more – check out the full interview here.
Contacts:
Trade Press
Karen Hamblen
+44 (0)7 973 474 42
Investor Relations
Aimee Remey
+1 646 565-6938
For Press and Sales
@Inspired_News