EXPERIENCE SPINE-TINGLING THRILLS THIS HALLOWEEN WITH BIG SCARY FORTUNE™ SLOT GAME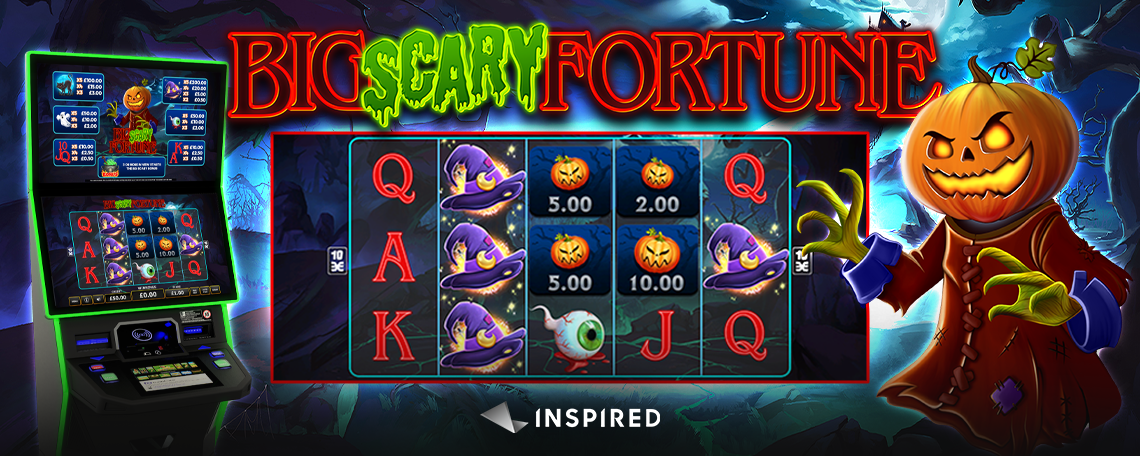 October 12, 2023 – Prepare for a Halloween season like no other, as Inspired Entertainment, Inc. ("Inspired" or the "Company") (NASDAQ: INSE) launches the highly anticipated Big Scary Fortune™ slot in UK retail. This captivating Halloween-themed slot is set to take players on a chilling adventure, featuring a 5×3 reel layout, 10 win-lines, and an exhilarating bonus that offers the chance to revel in unlimited Free Spins.
In Big Scary Fortune players can expect chills and thrills around every corner. Matching 3-5 symbols along a win-line awards a win and the fun doesn't stop there – the pumpkin symbols offer additional rewards through mixed pays. These symbols award wins regardless of the combination, with 5 pumpkins awarding £20, 4 pumpkins granting £5, and 3 pumpkins delivering £1 in rewards. The scarecrow, represented as the Wild symbol substitutes for all symbols except the bonus symbol.
Players should keep an eye out for the bonus symbol landing on any reel, as 3 or more of these symbols will trigger the coveted Big Scary Bonus. Before diving into the bonus round, players will engage in a match 3 game. The number of bonus symbols that triggered the bonus determines the number of tiles presented – 12 tiles for 3 bonus symbols, 9 tiles for 4 bonus symbols, and 6 tiles for 5 bonus symbols.
Matching 3 tiles will unveil the Big Winner Value, setting the stage for unlimited Free Spins during the Big Scary Bonus until the Big Winner Value is awarded. Stay alert during the bonus for the scarecrow and the pumpkin symbols. The values displayed on the pumpkins will be paid out, and if multiple scarecrows appear, each pumpkin's value will be awarded again for every extra scarecrow in view.
If all 15 positions are locked with the Big Winner, the value shown on all pumpkins are collected and the bonus ends.
The impressive online achievements of Big Scary Fortune served as a driving force behind its transformation into a UK B3 game, aligning perfectly with Inspired's omni-channel strategy of delivering diverse and engaging content to customers. As a Big Bonus style game, Big Scary Fortune features Inspired's groundbreaking Free Spins mechanic, introduced in August 2020, and has rapidly garnered a dedicated community of enthusiastic and engaged players.
Richard Terry, UK Product Director, said, "We are delighted to be launching another seasonal title to our B3 retail estates. Big Scary Fortune is testament to Inspired's proven seasonal content pipeline with the exciting 'Big Fortune' feature that has become a player favourite since release in 2020. Now, players can enjoy their favourite game, with an exciting unlimited free spins bonus, and innovative gamble to feature functionality all with a spooky twist!
Big Scary Fortune promises a Halloween gaming experience like no other, where the thrills are high, and the rewards are even higher.
For more information, visit https://inseinc.com/server-based-gaming/games/big-scary-fortune-b3/  and prepare to embark on an unforgettable Halloween journey.
Ends
About Inspired Entertainment, Inc.
Inspired offers an expanding portfolio of content, technology, hardware and services for regulated gaming, betting, lottery, social and leisure operators across land-based and mobile channels around the world. Inspired's gaming, Virtual Sports, interactive and leisure products appeal to a wide variety of players, creating new opportunities for operators to grow their revenue. Inspired operates in approximately 35 jurisdictions worldwide, supplying gaming systems with associated terminals and content for approximately 50,000 gaming machines located in betting shops, pubs, gaming halls and other route operations; virtual sports products through more than 32,000 retail venues and various online websites; digital games for 170+ websites; and a variety of amusement entertainment solutions with a total installed base of more than 16,000 terminals.
Additional information can be found at www.inseinc.com.
Forward-Looking Statements
This news release contains "forward-looking statements" within the meaning of the "safe harbor" provisions of the U.S. Private Securities Litigation Reform Act of 1995. Forward-looking statements may be identified by the use of words such as "anticipate," "believe," "expect," "estimate," "plan," "will," "would" and "project" and other similar expressions that indicate future events or trends or are not statements of historical matters. These statements are based on Inspired's management's current expectations and beliefs, as well as a number of assumptions concerning future events.
Forward-looking statements are subject to known and unknown risks, uncertainties, assumptions and other important factors, many of which are outside of Inspired's control and all of which could cause actual results to differ materially from the results discussed in the forward-looking statements. Accordingly, forward-looking statements should not be relied upon as representing Inspired's views as of any subsequent date and inspired does not undertake any obligation to update forward-looking statements to reflect events or circumstances after the date they were made, whether as a result of new information, future events or otherwise, except as required by law. You are advised to review carefully the "Risk Factors" section of Inspired's annual report on Form 10-K for the fiscal year ended December 31, 2023, and in subsequent quarterly reports on Form 10-Q, which are available, free of charge, on the U.S. Securities and Exchange Commission's website at www.sec.gov and on Inspired's website at www.inseinc.com.
Investor Relations
646-277-1285
For Press and Sales
@Inspired_News