INSPIRED APPOINTS SPORTS AND IGAMING EXCECTUIVE IAN FREEMAN AS CHIEF COMMERCIAL OFFICER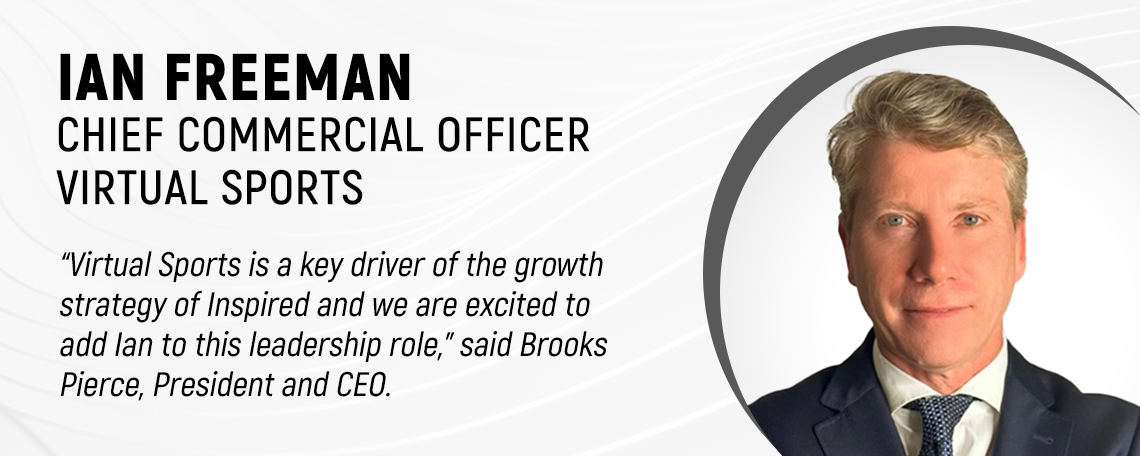 NEW YORK, Oct. 17, 2023 – Inspired Entertainment, Inc. ("Inspired" or the "Company") (NASDAQ: INSE), a leading B2B provider of gaming content, technology, hardware and services has named Ian Freeman as its new Chief Commercial Officer of Virtuals effective November 16, 2023. His responsibilities will include the innovation, delivery, and growth of Inspired's Virtual Sports products.
Ian is a seasoned industry veteran with more than two decades of experience in sports and iGaming. He has held key leadership positions in global gaming and technology, working with top companies in the industry.
Most recently, Ian served as Chief Revenue Officer for FSBTech, a leading sports and iGaming platform provider. He focused on driving customer acquisition and retention, revenue growth, and global market expansion, including successful launches in Ontario and South Africa.
Prior, Ian served as Vice President Global Business Development & Commercial at IGT PlayDigital, where he was instrumental in the rollout of IGT PlaySports across North America and helped drive the commercial growth of IGT PlayDigital's iGaming content portfolio worldwide.
Ian's impressive career also includes a five-year tenure at Kambi, a top sports betting technology provider, where he served as Chief Commercial Officer and was a member of the executive management team that navigated the company's successful IPO.
"Ian's extensive background in the sports betting industry, including leadership roles at Kambi, IGT, and FSBTech as Chief Revenue Officer, is invaluable to our team," said Brooks Pierce, President and CEO at Inspired Entertainment. "With a proven track record in commercial, operational, and technical areas, Ian brings the perfect balance of capabilities needed to elevate our Virtual Sports business to the next level. Virtual Sports is a key driver of the growth strategy of Inspired and we are excited to add Ian to this key leadership role.
Ian received a BA (HONS) Business Administration (2:1) – University of Greenwich and holds an MBA (Dist.) from Ashridge Business School.
Ian succeeds Steve Rogers, who after 25 years with Inspired has decided to pursue other opportunities. "I would like to thank Steve for his many contributions to the Company over the years. He has been a big part of our success. We wish him all the best in his future endeavors," added Brooks Pierce.
Ends
About Inspired Entertainment, Inc.
Inspired offers an expanding portfolio of content, technology, hardware and services for regulated gaming, betting, lottery, social and leisure operators across land-based and mobile channels around the world. Inspired's Gaming, Virtual Sports, Interactive and Leisure products appeal to a wide variety of players, creating new opportunities for operators to grow their revenue. Inspired operates in approximately 35 jurisdictions worldwide, supplying gaming systems with associated terminals and content for approximately 50,000 gaming machines located in betting shops, pubs, gaming halls and other route operations; virtual sports products through more than 32,000 retail venues and various online websites; digital games for 170+ websites; and a variety of amusement entertainment solutions with a total installed base of more than 16,000 terminals.
Additional information can be found at www.inseinc.com.
Forward-Looking Statements
This news release contains "forward-looking statements" within the meaning of the "safe harbor" provisions of the U.S. Private Securities Litigation Reform Act of 1995. Forward-looking statements may be identified by the use of words such as "anticipate," "believe," "expect," "estimate," "plan," "will," "would" and "project" and other similar expressions that indicate future events or trends or are not statements of historical matters. These statements are based on Inspired's management's current expectations and beliefs, as well as a number of assumptions concerning future events.
Forward-looking statements are subject to known and unknown risks, uncertainties, assumptions and other important factors, many of which are outside of Inspired's control and all of which could cause actual results to differ materially from the results discussed in the forward-looking statements. Accordingly, forward-looking statements should not be relied upon as representing Inspired's views as of any subsequent date and Inspired does not undertake any obligation to update forward-looking statements to reflect events or circumstances after the date they were made, whether as a result of new information, future events or otherwise, except as required by law. You are advised to review carefully the "Risk Factors" section of Inspired's annual report on Form 10-K for the fiscal year ended December 31, 2022, and in subsequent quarterly reports on Form 10-Q, which are available, free of charge, on the U.S. Securities and Exchange Commission's website at www.sec.gov and on Inspired's website at www.inseinc.com.
Contacts:
Investor Relations
IR@inseinc.com
+1 646 277 1285
For Press and Sales
inspiredsales@inseinc.com
www.inseinc.com
@Inspired_News