INSPIRED DELIVERS ITS PORTFOLIO OF KEY ONLINE & MOBILE GAMES TO THE PLAYTECH GAMES MARKETPLACE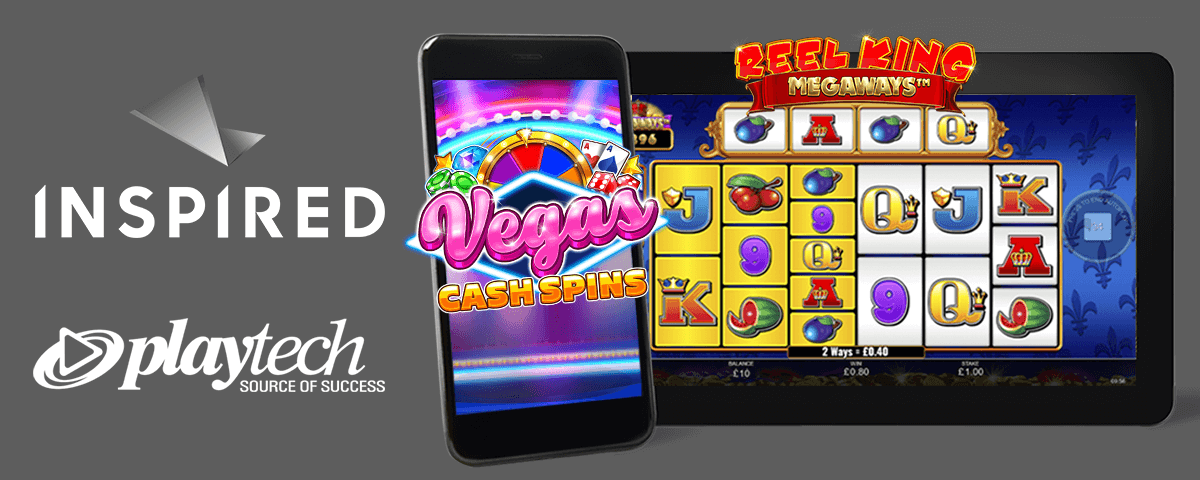 Wednesday, 3rd March 2021 – Inspired Entertainment, Inc ("Inspired") (NASDAQ: INSE) is pleased to announce it has partnered with Playtech plc (LSE: PTEC) to integrate more than 100 of its best-known online and mobile game titles into the Playtech Games Marketplace.
Bolstering Inspired's games distribution network, this partnership will enable Inspired to make its key games available to Playtech's growing list of licensed operator customers via the Playtech Open Platform. Offering seamless configuration, the Playtech Games Marketplace will provide licensees with access to Inspired's premium content on one unified platform.  It also offers operators a breadth of valuable insights and actionable intelligence to create the optimal player experience.
Serving content for an array of player tastes and preferences, the integration includes a diverse range of Inspired's premium online and mobile games. Under the agreement, the collection of games includes more than 100 of its highly popular, legacy titles as well as its most recent high-performing games, such as: Reel King Megaways™, Centurion Megaways™, Gold Cash Free Spins™, Bonus Island™ and Vegas Cash Spins™, among others.
Claire Osborne, VP of Interactive at Inspired, said: "Playtech is a leading technology company in the gaming industry. It offers Inspired an exciting opportunity to increase our distribution network and brand exposure among a very valuable audience, across new and existing strategic markets. With plans to deliver more of our top titles throughout this year and beyond, we look forward to building a long and prosperous relationship with Playtech."
Andrew Muir, Commercial Manager at Playtech, said: "Inspired's growing portfolio of innovative online and mobile games content will undoubtedly strengthen our games offering. We have a growing list of customers across numerous markets whose content requirements differ significantly, from varying themes and graphics to mechanics and general gameplay. Inspired's content covers multiple bases that will boost our customers' games rosters across all our regulated markets. We're thrilled to be adding Inspired to our flourishing list of distinguished content partners."
To view Inspired's growing collection of online and mobile games, head here: https://inseinc.com/interactive/games
Ends
About Inspired Entertainment, Inc.
Inspired offers an expanding portfolio of content, technology, hardware and services for regulated gaming, betting, lottery, social and leisure operators across retail and mobile channels around the world. The Company's gaming, virtual sports, interactive and leisure products appeal to a wide variety of players, creating new opportunities for operators to grow their revenue. The Company operates in approximately 35 jurisdictions worldwide, supplying gaming systems with associated terminals and content for more than 50,000 gaming machines located in betting shops, pubs, gaming halls and other route operations; virtual sports products through more than 44,000 retail channels; digital games for 100+ websites; and a variety of amusement entertainment solutions with a total installed base of more than 19,000 devices.  Additional information can be found at www.inseinc.com.
Forward-Looking Statements
This news release contains "forward-looking statements" within the meaning of the "safe harbor" provisions of the U.S. Private Securities Litigation Reform Act of 1995. Forward-looking statements may be identified by the use of words such as "anticipate," "believe," "expect," "estimate," "plan," "will," "would" and "project" and other similar expressions that indicate future events or trends or are not statements of historical matters. These statements are based on Inspired's management's current expectations and beliefs, as well as a number of assumptions concerning future events.
Forward-looking statements are subject to known and unknown risks, uncertainties, assumptions and other important factors, many of which are outside of Inspired's control and all of which could cause actual results to differ materially from the results discussed in the forward-looking statements. Accordingly, forward-looking statements should not be relied upon as representing Inspired's views as of any subsequent date, and Inspired does not undertake any obligation to update forward-looking statements to reflect events or circumstances after the date they were made, whether as a result of new information, future events or otherwise, except as required by law. You are advised to review carefully the "Risk Factors" section of Inspired's annual report on Form 10-K for the fiscal year ended December 31, 2019 and Inspired's quarterly report on Form 10-Q for the quarter ended June 30, 2020, which are available, free of charge, on the U.S. Securities and Exchange Commission's website at www.sec.gov and on Inspired's website at www.inseinc.com.
Contacts:
Trade Press
Karen Hamblen
+44 (0)7 973 474 42
Investor Relations
Aimee Remey
+1 646 565-6938
For Press and Sales
@Inspired_News