INSPIRED LAUNCHES BONUS FRUITS, A MODERN FRUIT-THEMED 
ONLINE & MOBILE SLOT GAME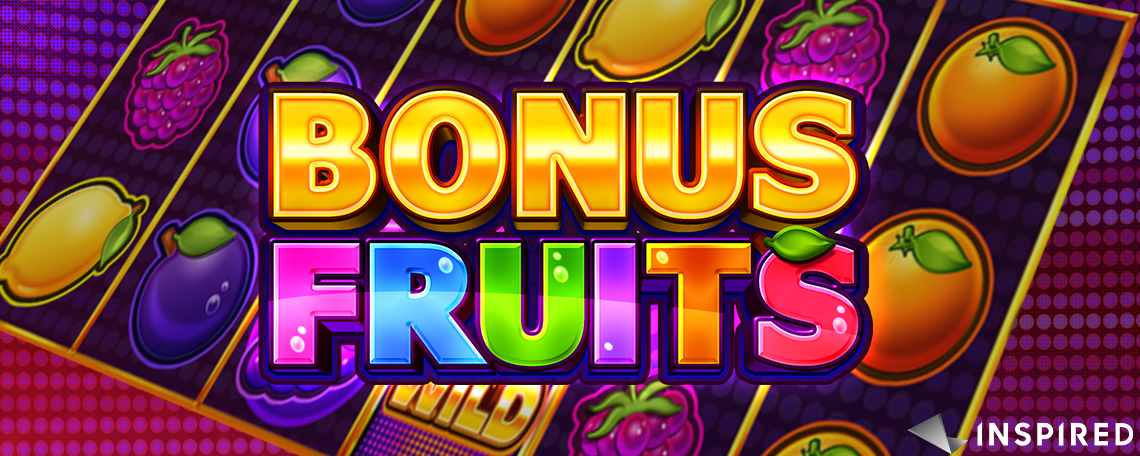 10 September 2021– Inspired Entertainment, Inc. ("Inspired") (NASDAQ: INSE) is pleased to announce the launch of Bonus Fruits™, a modern fruit-themed slot game, available online and on mobile. 
With a 6×3 reel configuration and 40 win-lines, Bonus Fruits is a modern fruit-based slot game that offers players the juiciest iGaming experience around. It's a medium volatility, time-on-device game that has been fully optimised for desktop as well as portrait and landscape mobile play.  
In the base game, six or more diamonds trigger the game's iconic SPIN & WIN Bonus, while three or more scatter symbols offer the player a choice of entering either the game's Free Spins Bonus or the SPIN & WIN Bonus. Players must fill all the juicy reels to win the game's delectable 1000x Grand Jackpot.  
Featuring vivid graphics, vibrant fruity symbols, an array of stacked Wilds, multiple bonuses and an upbeat electronic soundtrack, Bonus Fruits is the ideal game for players to relax, unwind and have fun with.  
Claire Osborne, Vice President of Interactive at Inspired, said: "We're delighted to launch Bonus Fruits, a welcome, tantalising addition to our growing and varied portfolio of innovative slot titles. The game's vibrant fruit graphics and seamless gameplay will please an array of casual slot fans with all budgets while offering them an enjoyable and relaxed iGaming experience." 
With a return-to-player (RTP) rate of 95%, Bonus Fruits is a medium volatility game, aimed at the casual online casino player.  
Available online and on mobile.  
Head over to Inspired's website to sample Bonus Fruits here:   
https://inseinc.com/interactive/games/bonus-fruits 
For all of Inspired's other online and mobile games, head here: https://inseinc.com/interactive/games 
Ends 
About Inspired Entertainment, Inc. 
Inspired offers an expanding portfolio of content, technology, hardware and services for regulated gaming, betting, lottery, social and leisure operators across land-based and mobile channels around the world. Inspired's gaming, virtual sports, interactive and leisure products appeal to a wide variety of players, creating new opportunities for operators to grow their revenue. Inspired operates in approximately 35 jurisdictions worldwide, supplying gaming systems with associated terminals and content for approximately 50,000 gaming machines located in betting shops, pubs, gaming halls and other route operations; virtual sports products through more than 32,000 retail venues and various online websites; digital games for 170+ websites; and a variety of amusement entertainment solutions with a total installed base of more than 16,000 gaming terminals.  Additional information can be found at www.inseinc.com.  
Forward-Looking Statements 
This news release contains "forward-looking statements" within the meaning of the "safe harbor" provisions of the U.S. Private Securities Litigation Reform Act of 1995. Forward-looking statements may be identified by the use of words such as "anticipate," "believe," "expect," "estimate," "plan," "will," "would" and "project" and other similar expressions that indicate future events or trends or are not statements of historical matters. These statements are based on Inspired's management's current expectations and beliefs, as well as a number of assumptions concerning future events. 
Forward-looking statements are subject to known and unknown risks, uncertainties, assumptions and other important factors, many of which are outside of Inspired's control and all of which could cause actual results to differ materially from the results discussed in the forward-looking statements. Accordingly, forward-looking statements should not be relied upon as representing Inspired's views as of any subsequent date and Inspired does not undertake any obligation to update forward-looking statements to reflect events or circumstances after the date they were made, whether as a result of new information, future events or otherwise, except as required by law. You are advised to review carefully the "Risk Factors" section of Inspired's annual report on Form 10-K for the fiscal year ended December 31, 2020, and in Inspired's subsequent quarterly reports on Form 10-Q, which are available, free of charge, on the U.S. Securities and Exchange Commission's website at www.sec.gov and on Inspired's website at www.inseinc.com. 
Contacts: 
Trade Press 
Karen Hamblen 
+44 (0)7 973 474 42 
Investor Relations 
Aimee Remey 
+1 646 565-6938 
For Press and Sales 
@Inspired_News