INSPIRED LAUNCHES ITS SLOT ADAPTATION OF THE TERMINATOR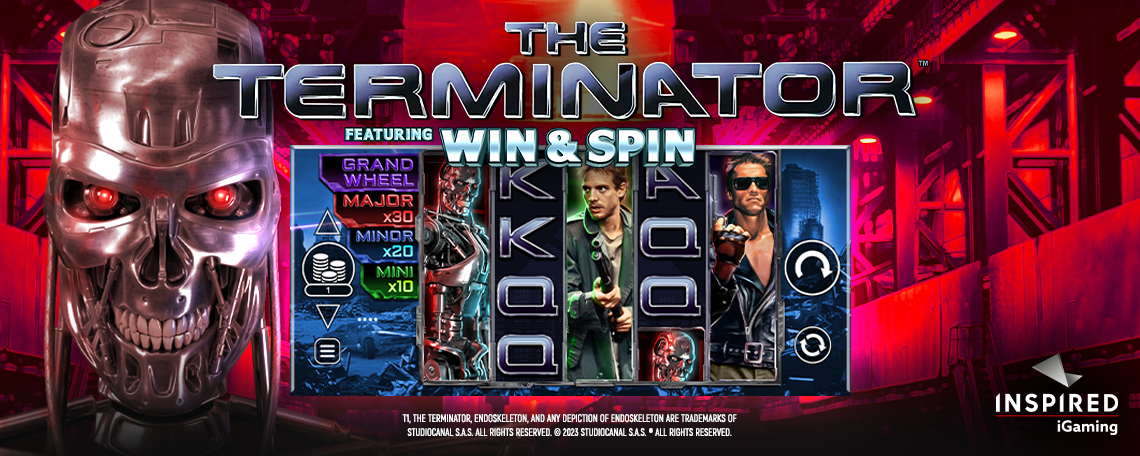 April 18, 2023 – Inspired Entertainment, Inc. ("Inspired" or the "Company") (NASDAQ: INSE) is pleased to announce the launch of its online and mobile slot adaptation of The Terminator™.
Launched as part of Inspired's growing suite of licensed content, The Terminator incorporates iconic graphics and visuals from the original 1984 movie, transporting slot players to a land of nostalgia and big thrills.
With a reel configuration on 5×4 and 20 win-lines, the game features Inspired's latest Win & Spin™ mechanic to deliver edge-of-your-seat action. The base game is packed with Wilds and Win & Spin symbols, in addition to fun reel modifiers, presented in-game as the movie's key characters: The Terminator, Sarah Connor, Kyle Reese and the Endoskeleton. If any of the stacked symbols / reel modifiers land in view on the first reel, the base game's Super Symbol Respins will commence, taking the player on an exciting journey of spins and big wins. Players will aim to land additional matching symbols. Respins will finish when no extra matching symbols land in view.
Attaining six or more Win & Spin symbols in the base game triggers the Win & Spin Bonus entry. The number of symbols the player lands dictates the starting position of the player (shown as Sarah Connor) on the game's progressive trail with The Terminator hot on the player's heels, just three spaces behind. Throughout the duration of the Bonus, the Win & Spin symbols previously landed lock in place with the reels spinning to reveal new symbols with cash values to facilitate the player's move along the trail. If no new symbols land, the player stays put and The Terminator moves one space forward, emulating the thrilling chase elements of the movie.
Mystery supply packs are available along the trail presenting players with three options to avoid The Terminator and help them win big. These include: "Extra Lives" where The Terminator gets pushed further back; "Collector," where additional symbols get added to the board advancing the player along the trail; "Upgrade Prize," where more symbols are added to boost their overall jackpot: and "Cash Boost," where random symbols are added to the board to increase the player's stake and thus their cash values.
If The Terminator catches up to the player before the board is filled with symbols, the player is paid the total values awarded to them throughout the Bonus round. If, however, they fill the board, they will have a chance to spin the game's Grand Wheel with prizes up to a whopping 1,000x their stakes.
With a return-to-player rate of 94.5%, The Terminator is a fun, medium to high volatility game, packed with engaging gameplay, aimed at the casual online casino player.
Steve Collett, Chief Product Officer at Inspired, said: "We're thrilled to be launching our slot adaptation of one of the most iconic movies of all time, taking players on a trip down memory lane. With its innovative mechanics and, solid math profile coupled with great visual effects, we're certain it'll be an instant hit with players who lived through The Terminator era and with others who know of its legendary status!
"With the addition of Inspired's exciting Win & Spin mechanic, we've moved along and enhanced the traditional elements of cash on reel style games. Offering big potential wins and non-stop thrills, The Terminator is a welcome addition to our growing suite of fun, licensed content."
Head over to Inspired's website to sample The Terminator here: https://inseinc.com/interactive/games/the-terminator
Ends
T1, The Terminator, Endoskeleton and any depiction of Endoskeleton are trademarks of STUDIOCANAL S.A.S. All rights Reserved. ©2023 STUDIOCANAL S.A.S. ®All rights Reserved.
About Inspired Entertainment, Inc. (Nasdaq: INSE) 
Inspired offers an expanding portfolio of content, technology, hardware and services for regulated gaming, betting, lottery, social and leisure operators across land-based and mobile channels around the world. Inspired's gaming, virtual sports, interactive and leisure products appeal to a wide variety of players, creating new opportunities for operators to grow their revenue. Inspired operates in approximately 35 jurisdictions worldwide, supplying gaming systems with associated terminals and content for approximately 50,000 gaming machines located in betting shops, pubs, gaming halls and other route operations; virtual sports products through more than 32,000 retail venues and various online websites; digital games for 170+ websites; and a variety of amusement entertainment solutions with a total installed base of more than 16,000 terminals.  Additional information can be found at www.inseinc.com.
Forward-Looking Statements
This news release contains "forward-looking statements" within the meaning of the "safe harbor" provisions of the U.S. Private Securities Litigation Reform Act of 1995. Forward-looking statements may be identified by the use of words such as "anticipate," "believe," "expect," "estimate," "plan," "will," "would" and "project" and other similar expressions that indicate future events or trends or are not statements of historical matters. These statements are based on Inspired's management's current expectations and beliefs, as well as a number of assumptions concerning future events.
Forward-looking statements are subject to known and unknown risks, uncertainties, assumptions and other important factors, many of which are outside of Inspired's control and all of which could cause actual results to differ materially from the results discussed in the forward-looking statements. Accordingly, forward-looking statements should not be relied upon as representing Inspired's views as of any subsequent date and Inspired does not undertake any obligation to update forward-looking statements to reflect events or circumstances after the date they were made, whether as a result of new information, future events or otherwise, except as required by law. You are advised to review carefully the "Risk Factors" section of Inspired's annual report on Form 10-K for the fiscal year ended December 31, 2021, and in subsequent quarterly reports on Form 10-Q, which are available, free of charge, on the U.S. Securities and Exchange Commission's website at www.sec.gov and on Inspired's website at www.inseinc.com.
About STUDIOCANAL (a CANAL+ Company) 
STUDIOCANAL, a 100% affiliate of CANAL+ Group held by Vivendi, is Europe's leader in production, distribution and international sales of feature films and series, operating in all nine major European markets – France, United Kingdom, Germany, Poland, Spain, Denmark and Benelux – as well as in Australia and New Zealand.  It finances and produces around 30 films per year, distributes around 80 films per year. It owns the largest library in Europe and one of the most prestigious libraries in the world, boasting more than 8 000 titles from 60 countries, spanning 100 years of film history. 20 million euros has been invested into the restoration of 750 classic films over the past 5 years. In addition, STUDIOCANAL also produces almost 20 series each year and operates at an international level by globally distributing its scripted productions and CANAL+ Originals (2,000 hours of current and library content in distribution). All productions take place directly through STUDIOCANAL entities or with its award-winning network of European production companies (STUDIOCANAL Series, LAILAPS FILMS, RED PRODUCTION COMPANY, URBAN MYTH FILMS, BAMBÚ PRODUCCIONES, STUDIOCANAL ORIGINAL, 2e BUREAU, SUNNYMARCH TV, SAM Productions, DINGIE/DUTCH FILMWORKS, KINO SWIAT, BIRDIE PICTURES).
About Creative Licensing
Located in Los Angeles, Calif., Creative Licensing is a full-service independent merchandise licensing agency that specializes in long-term brand development. Founded in 1982, Creative Licensing currently represents a large catalogue of classic films and properties, including STUDIOCANAL for this project. http://www.creativelicensingcorporation.com
Contacts:
Trade Press
Karen Hamblen
+44 (0)7 973 474 42
Investor Relations
+1 646 565-6938
For Press and Sales
@Inspired_News