INSPIRED LAUNCHES LUCKY IRISH FORTUNE SPINNER AND 20P ROULETTE DOUBLE PAY IN UK RETAIL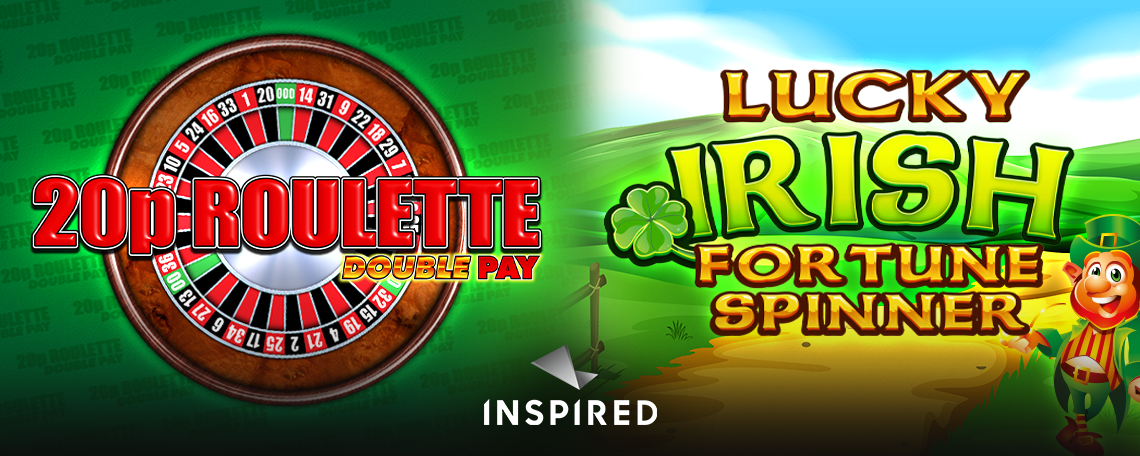 April 19, 2023 – Inspired Entertainment, Inc. ("Inspired" or the "Company") (NASDAQ: INSE) is pleased to announce the launch of two retail games Lucky Irish Fortune Spinner™ and 20p Roulette Double Pay™ to our LBO and B3 customers.
Lucky Irish Fortune Spinner
Lucky Irish Fortune Spinner transports players to rolling hills and blue skies. The five-reel, three-row, 10-win line slot is decorated with vibrant symbols that complement the traditional Irish theme and is perfectly suited to give players a fun, memorable experience.
Inspired's brand-new slot charms players with its Fortune Spins feature, where players have two games to choose from: Fortune Spins (which has a 1 in 10 chance of entry) or Super Fortune Spins (which has a 1 in 20 chance of entry). Both games are played across four-reel sets, and wins are boosted in Super Fortune Spins!
Before Fortune Spins begins, players will be presented with a three-reel mini game. Landing three Fortune Spin symbols on a center line – will award the chosen Fortune Spins game. If players land two Fortune Spin symbols,  Inspired's hold over feature may kick in, holding the symbols place for an additional re-spin.
And the excitement doesn't stop there! If a Mystery Symbol lands in view during Fortune Spins, it transfers to all four-reel sets for four times the fun! The Mystery symbol can also be activated during the base game if £2 has been staked.
20p Roulette Double Pay
Inspired's most popular roulette's brand takes on a new twist! Originating from its top-performing predecessor, 20p Roulette Double Pay features an exciting new golden spin bar mechanic.
20p Roulette Double Pay features our proven Spin Bar™ mechanic, which makes playing roulette a little more interesting. If 200 or more chips are placed, the Spin Bar will activate and adjust its green, gold, and red sections, and the pay table will update to show potential winnings for that game cycle.
When the player is happy with their bet, the Spin Bar arrow will slide up and down. If it stops in the green section, the roulette wheel will spin. If it stops in the red section, the game cycle will end – but here's where it gets exciting: if the arrow lands in the brand-new gold section of the Spin bar, all potential winnings will be doubled!
20p Roulette Double Pay gives players the familiarity of roulette but offers a whole new level of excitement with its new feature.  It is set to become another player favorite in the 20p Roulette family.
Richard Terry, UK Market Product Director said: "We are thrilled to bring Lucky Irish Fortune Spinner and 20p Roulette Double Pay to our UK operators., These games offer players different styles of play and are fantastic additions to our growing portfolio of premium games. Lucky Irish Fortune Spinner is an enchanting slot that is easy to play. Its engaging and dynamic graphics create a fun, casual atmosphere whilst our proven Fortune Spins mechanic attracts players in with appealing cash prizes.
"20p Roulette Double Pay brings a new twist on an established classic with its red, gold, and green Spin Bar enabling players to enjoy a new way to play 20p Roulette."
Lucky Irish Fortune Spinner and 20p Roulette Double Pay are now available in retail.
Head over to Inspired's website to sample the games:
Lucky Irish Fortune Spinner: https://inseinc.com/server-based-gaming/games/lucky-irish-fortune-spinner/
20p Roulette Double Pay: https://inseinc.com/server-based-gaming/games/20p-roulette-000-double-pay/
Ends
About Inspired Entertainment, Inc. (Nasdaq: INSE) 
Inspired offers an expanding portfolio of content, technology, hardware and services for regulated gaming, betting, lottery, social and leisure operators across land-based and mobile channels around the world. Inspired's gaming, virtual sports, interactive and leisure products appeal to a wide variety of players, creating new opportunities for operators to grow their revenue. Inspired operates in approximately 35 jurisdictions worldwide, supplying gaming systems with associated terminals and content for approximately 50, gaming machines located in betting shops, pubs, gaming halls and other route operations; virtual sports products through more than 32, retail venues and various online websites; digital games for 170+ websites; and a variety of amusement entertainment solutions with a total installed base of more than 16, terminals. Additional information can be found at www.inseinc.com.
Forward-Looking Statements
This news release contains "forward-looking statements" within the meaning of the "safe harbor" provisions of the U.S. Private Securities Litigation Reform Act of 1995. Forward-looking statements may be identified by the use of words such as "anticipate," "believe," "expect," "estimate," "plan," "will," "would" and "project" and other similar expressions that indicate future events or trends or are not statements of historical matters. These statements are based on Inspired's management's current expectations and beliefs, as well as a number of assumptions concerning future events.
Forward-looking statements are subject to known and unknown risks, uncertainties, assumptions and other important factors, many of which are outside of Inspired's control and all of which could cause actual results to differ materially from the results discussed in the forward-looking statements. Accordingly, forward-looking statements should not be relied upon as representing Inspired's views as of any subsequent date and Inspired does not undertake any obligation to update forward-looking statements to reflect events or circumstances after the date they were made, whether as a result of new information, future events or otherwise, except as required by law. You are advised to review carefully the "Risk Factors
Investor Relations
+1 646 565-6938
For Press and Sales
@Inspired_News