INSPIRED TO to SHOWCASE WIDE RANGE OF INNOVATIVE CONTENT AND SOLUTIONS OFR GAMING, IGAMING AND VIRTUALS SPORTS AT G2E EVENT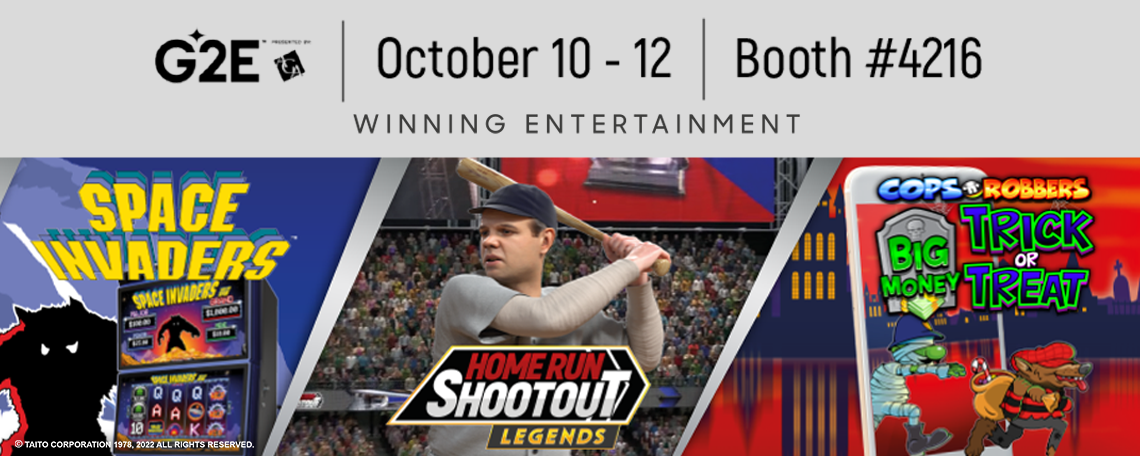 Inspired Showcases its Latest Award-Winning Virtual Sports Content and Top Performing iGaming and VLT Titles at Booth #4216
NEW YORK, Oct. 09, 2023 – Inspired Entertainment, Inc. ("Inspired" or the "Company") (NASDAQ: INSE), a leading B2B provider of gaming content, technology, hardware and services, is excited to showcase its robust portfolio of sporting licenses and differentiated cross-platform content at this year's Global Gaming Expo ("G2E") at the Venetian in Las Vegas, Nevada from October 10-13. The Company will be featuring its suite of entertaining content at Booth #4216. This year we are proud to unveil our first-ever NFL-themed Virtual Sports offering, V-Play NFL. With Inspired sublicensed through Aristocrat Gaming, V-Play NFL is an officially licensed product of the National Football League (NFL), giving football enthusiasts an exciting and unique way to interact with their favorite NFL teams.
In addition to our Virtual Sports offerings, Inspired is proud to unveil a revolutionary new product category at G2E, Hybrid Dealer®. This unique product offers players branded table and gameshow content for online play, eliminating the challenges of live-dealer products. Hybrid Dealer game outcomes require no physical studios; instead, they are RNG-generated. It seamlessly blends physical and digital elements in a way that offers operators unlimited branding and customizable possibilities that are unique from game to game. The scheduled action continues 24/7, with hosts rotating regularly to keep players engaged. Hybrid Dealer's technology allows us to develop and customize games quickly and cost-effectively for individual clients. It is a game-changing solution for operators seeking unprecedented flexibility.
Inspired is also excited to offer a new product feature that will bring winning benefits to players, operators and venues in the Illinois VGT market: a promotional leaderboard, tied to the much-anticipated launch of our Space Invaders game. Inspired's leaderboard is designed to enhance players' gaming experience by making it more interactive. Route venues can use leaderboards to introduce competitive and promotional elements to gameplay, adding a new dimension that evokes the familiarity and nostalgia of traditional leaderboard tables.
Inspired's latest must-have mechanics for its Gaming and iGaming games will be on display at G2E as well, including:
Fortune Spins, which lets players replace standard base game spins with a selection of new game modes, featuring such enhancements as removing symbols for increased bonus chances or playing a subset of the standard base game, paying only a single symbol, mini or full bonus round
Fortune Bet, which features a variety of game enhancements for a premium cost, including improving players' chances of triggering a bonus
Bonus Buy, which lets players purchase direct entry into the bonus by wagering a specific stake multiplier to guarantee bonus entry on their next spin.
Gamble to Bonus, which allows players to risk their base game wins to win more cash or risk to trigger a bonus round.
Win & Spin Bonus, which awards players with three lives that recharge every time the Win Symbol lands, and rewards a big win once a full screen of Win & Spin symbols is achieved
Inspired is constantly pushing the bounds of creativity and innovation in the gaming industry, and its latest offerings are sure to impress players and operators alike. Please visit Inspired's G2E booth to experience the strength and breadth of the product offerings that make Inspired "Winning Entertainment."
Ends
About Inspired Entertainment, Inc.
Inspired offers an expanding portfolio of content, technology, hardware and services for regulated gaming, betting, lottery, social and leisure operators across land-based and mobile channels around the world. Inspired's gaming, Virtual Sports, interactive and leisure products appeal to a wide variety of players, creating new opportunities for operators to grow their revenue. Inspired operates in approximately 35 jurisdictions worldwide, supplying gaming systems with associated terminals and content for approximately 50,000 gaming machines located in betting shops, pubs, gaming halls and other route operations; virtual sports products through more than 32,000 retail venues and various online websites; digital games for 170+ websites; and a variety of amusement entertainment solutions with a total installed base of more than 16,000 terminals.
Additional information can be found at www.inseinc.com.
Forward-Looking Statements
This news release contains "forward-looking statements" within the meaning of the "safe harbor" provisions of the U.S. Private Securities Litigation Reform Act of 1995. Forward-looking statements may be identified by the use of words such as "anticipate," "believe," "expect," "estimate," "plan," "will," "would" and "project" and other similar expressions that indicate future events or trends or are not statements of historical matters. These statements are based on Inspired's management's current expectations and beliefs, as well as a number of assumptions concerning future events.
Forward-looking statements are subject to known and unknown risks, uncertainties, assumptions and other important factors, many of which are outside of Inspired's control and all of which could cause actual results to differ materially from the results discussed in the forward-looking statements. Accordingly, forward-looking statements should not be relied upon as representing Inspired's views as of any subsequent date and Inspired does not undertake any obligation to update forward-looking statements to reflect events or circumstances after the date they were made, whether as a result of new information, future events or otherwise, except as required by law. You are advised to review carefully the "Risk Factors" section of Inspired's annual report on Form 10-K for the fiscal year ended December 31, 2022, and in subsequent quarterly reports on Form 10-Q, which are available, free of charge, on the U.S. Securities and Exchange Commission's website at www.sec.gov and on Inspired's website at www.inseinc.com.
Contacts:
Investor Relations
IR@inseinc.com
+1 646 277 1285
For Press and Sales
inspiredsales@inseinc.com
www.inseinc.com
@Inspired_News