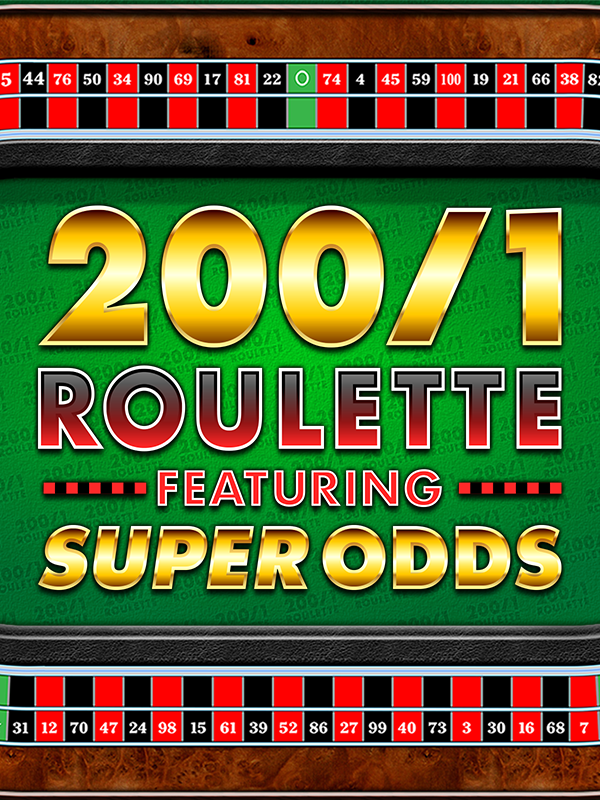 200/1 Roulette Super Odds is a brand-new roulette game that gives players the familiarity of roulette but with an added level of excitement thanks its new feature. Activate the Super Odds feature for a chance to enhance your wins up to 200 to 1. 
How to play? 
The roulette wheel has 100 red and black numbers and seven green shapes. There are 5,000 chips available, and the number of chips placed will be displayed in the 'Chips Placed' box. As you place your chips, the pay table will update to show the potential win for that game cycle.  
If more than 200 chips are placed, the Spin Bar will become active. If 200 chips are placed, you'll progress straight to the roulette feature. 
Spin Bar 
If over 200 chips have been placed, the Spin bar will adjust its green and red sections. The more chips placed; the bigger the bar's red section will be. It is more likely that the roulette feature will spin if the green area of the bar is larger. When your happy with your bet, press bet in the right-hand corner and the Spin Bar arrow will start to slide up and down.  
The roulette feature will start if the arrow lands in the green section, whereas the roulette feature will not trigger if the arrow lands in the red section. 
Super Odds Feature – Activate the Super Odds wheel for a chance to enhance your wins up to 200 to 1. 
The Super Odds feature will activate from any chips placed on inside bets. By successfully triggering the roulette wheel via the Spin Bar, the super odds wheel will also spin. The Super odds that appear are randomly selected and applied to any qualifying bets shown on the pay table. 
If a players selection lands in place from an inside bet, the number shown on the Super Odds wheel will multiply the win by that set of odds. The following odds are available: 50/1, 60/1, 80/1, 100/1, 120/1, 150/1, 200/1.