INSPIRED INTRODUCES A FUSION OF VIRTUAL SPORTS AND ESPORTS: RE-PLAY ESPORTS™ FEATURING CS:GO IN PARTNERSHIP WITH GRID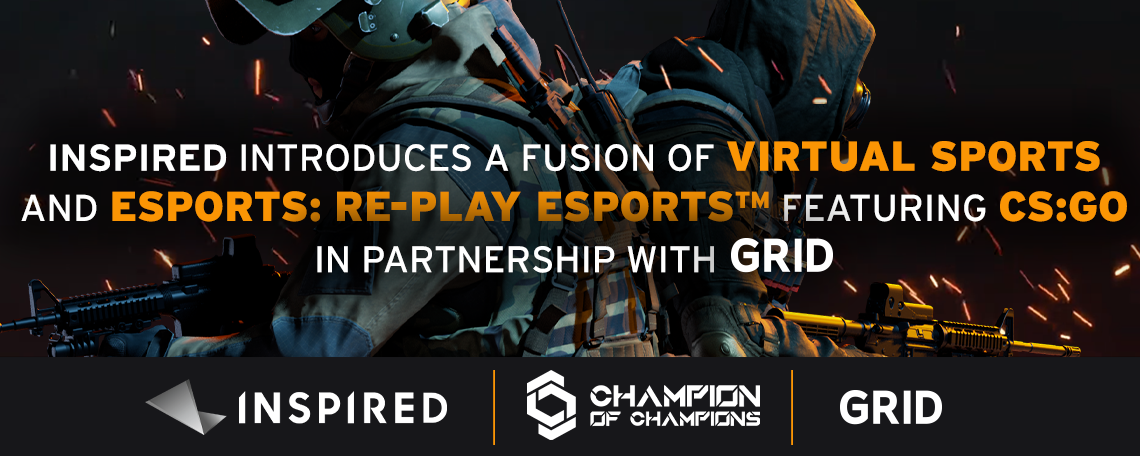 MAY 15, 2023 – Inspired Entertainment, Inc. ("Inspired" or the "Company") (NASDAQ: INSE) is pleased to introduce its latest Virtual Sports product, Re-Play eSports™ featuring Counter-Strike: Global Offensive ("CS:GO") in partnership with GRID, a game data platform specialized in providing in-game data solutions for the eSports and gaming industry.
eSports is an innovative sport that has a consistently growing audience base, with currently more than 500 million gamers worldwide. Inspired believes the fusion of Virtual Sports and eSports has the potential to bring new players to their customers as well as providing existing players a new, exciting gaming experience.
Re-Play eSports™ will showcase footage taken exclusively from the CS:GO's global tournament – Champion of Champions Tour that include professional and international teams from across the globe and will be offered via Inspired's Virtuals sportsbook and VPP platforms to new and existing customers. The official in-game data and video feeds to power Re-Play eSports™ will be provided by GRID.
CS:GO is a well-known and popular tactical multiplayer first-person shooter video game. In Re-Play eSports™, two teams go head-to-head to battle it out. Bets will be offered on a variety of possible outcomes including, which team will win, which team will get the first kill and total number of survivors.
"Being able to offer fixed odds eSports games through our existing Virtual Sports platforms is a unique fusion of two product verticals that have seen exponential growth over the past 2-3 years," said Steve Rogers, Chief Commercial Officer of Virtual Sports at Inspired. "Making eSports events available 24/7/365 across our certified Virtual Sports platforms is a uniquely exciting offer. We are looking forward to unveiling our Re-Play eSports™ game with GRID as a whole new genre of betting events aimed at capturing the attention of a different player demographic outside the more traditional sports betting community."
"CS:GO has proven to be an iconic eSports title with an active fanbase that has been growing constantly for more than a decade. Inspired has taken a unique approach to creating the product that recognized the next generation's needs and taps into the eSports potential," said Mikael Westerling, Chief Sales Officer at GRID. "We are excited to partner with Inspired to make sure the next wave of innovation in eSports betting is powered by official in-game data, providing the best fan experience for all players."
To find out more about Re-Play eSports, visit: https://inseinc.com/virtuals/scheduled-virtuals/re-play-esports/
Ends
About Inspired Entertainment, Inc.
Inspired offers an expanding portfolio of content, technology, hardware and services for regulated gaming, betting, lottery, social and leisure operators across land-based and mobile channels around the world. Inspired's gaming, Virtual Sports, interactive and leisure products appeal to a wide variety of players, creating new opportunities for operators to grow their revenue. Inspired operates in approximately 35 jurisdictions worldwide, supplying gaming systems with associated terminals and content for approximately 50,000 gaming machines located in betting shops, pubs, gaming halls and other route operations; virtual sports products through more than 32,000 retail venues and various online websites; digital games for 170+ websites; and a variety of amusement entertainment solutions with a total installed base of more than 16,000 terminals.
Additional information can be found at www.inseinc.com.
About GRID:
GRID is a data platform serving the game industry with in-game data infrastructure, data management and asset distribution solutions.
The GRID Data Platform allows rights holders to manage and distribute their in-game data to various user groups including the community, professional players, and commercial data users. GRID partners with over 90 rights holders such as Riot Games, KRAFTON, WePlay and PGL, and offers a robust network of integrated data customers in media, fantasy, player coaching, and other categories. GRID is headquartered in Berlin with teams in the US, Poland, Sweden, and China, and employs over 95 people globally.
For more information, please reach out to Dominika Szot (Head of Marketing) dominika@grid.gg  or visit www.grid.gg
Forward-Looking Statements
This news release contains "forward-looking statements" within the meaning of the "safe harbor" provisions of the U.S. Private Securities Litigation Reform Act of 1995. Forward-looking statements may be identified by the use of words such as "anticipate," "believe," "expect," "estimate," "plan," "will," "would" and "project" and other similar expressions that indicate future events or trends or are not statements of historical matters. These statements are based on Inspired's management's current expectations and beliefs, as well as a number of assumptions concerning future events.
Forward-looking statements are subject to known and unknown risks, uncertainties, assumptions and other important factors, many of which are outside of Inspired's control and all of which could cause actual results to differ materially from the results discussed in the forward-looking statements. Accordingly, forward-looking statements should not be relied upon as representing Inspired's views as of any subsequent date and Inspired does not undertake any obligation to update forward-looking statements to reflect events or circumstances after the date they were made, whether as a result of new information, future events or otherwise, except as required by law. You are advised to review carefully the "Risk Factors" section of Inspired's annual report on Form 10-K for the fiscal year ended December 31, 2022, and in subsequent quarterly reports on Form 10-Q, which are available, free of charge, on the U.S. Securities and Exchange Commission's website at www.sec.gov and on Inspired's website at www.inseinc.com.
Contacts:
Trade Press
Meera Modi
(0) 7778 178643
Investor Relations
+1 646 277 1285
For Press and Sales
@Inspired_News