INSPIRED STORMS IN WITH ITS LATEST SLOTS: BIG SPIN BONUS EXTRA SPINS, GOLD FISHY FREE SPINS & WILD PARTY JOKERS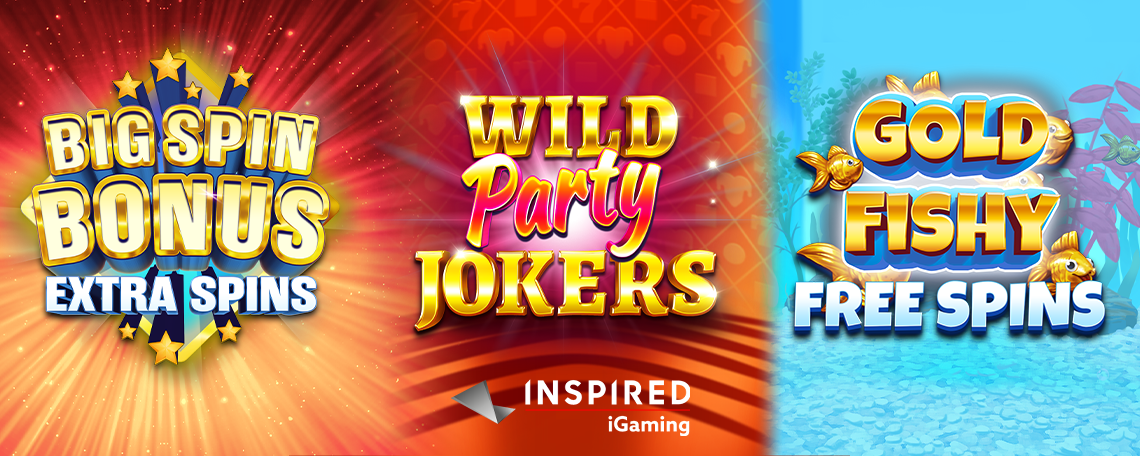 November 6, 2023 – Inspired Entertainment, Inc. ("Inspired" or the "Company") (NASDAQ: INSE) is pleased to announce the launch of its latest online and mobile slot games: Big Spin Bonus Extra Spins™, Gold Fishy Free Spins™ and Wild Party Jokers™.
Big Spin Bonus Extra Spins is the much-anticipated sequel to Inspired's award-winning Big Spin Bonus™. Building upon the success of its predecessor, Big Spin Bonus Extra Spins takes everything players love about the classic fruit slot and adds an innovative twist where they can win extra Big Spins in the Bonus.
Players plunge into a journey packed with heart-pounding action and excellent winning potential. Landing three or more Bonus scatters triggers the Big Spin Bonus, where sticky wilds will build up increasing the chance of a big win. Inspired's Dual Gamble Wheel gives players the chance to gamble for cash or a shot at the Big Spin Bonus. With a return to player (RTP) rate of 94.5%, this game is perfect for the online casino enthusiast who craves the best in iGaming entertainment.
Gold Fishy Free Spins is a "fin-tastic" adventure, a fish-themed version of Inspired's number-one hit slot, Gold Cash Free Spins™. Gold Fishy Free Spins is the "reel" deal, giving players a splash of aquatic fun.
Three Bonus scatters trigger the game's Free Spins Bonus round with a complimentary eight Free Spins, featuring the four highest-paying symbols. Fortune Bet can be triggered to boost a player's chances of Bonus entry by more than double. To activate, the player pays a premium of 50% of their bet to initiate the Bonus symbol re-spin. Gold Fishy Free Spins is a medium-volatility game with an RTP rate of 93.75% that'll make players smile from "gill to gill" and guarantee a "whale" of a time.
Wild Party Jokers™ invites players to party and win big with a descendant of Inspired's hit slot Call of the Wild™. Wild Party Jokers takes the excitement to a whole new level with its thrilling Golden Joker mechanism, designed to supercharge a player's gaming experience.
Six or more Wild symbols trigger the Wild Win & Spin Bonus, and if one of them is the elusive Golden Joker, players should brace for an explosive start! Upon entering the Bonus, the player is awarded three spins to collect as many Wilds as they possibly can before the exhilarating Wild Win Spin takes over. Landing more Wilds, however, resets a player's spins to three, giving them another chance to stack up their wins. If no new Wild symbols land in view, however, the number of spins decreases by one. If the player reaches the point at which  they are down to no more Wilds, the game's vibrant reels spin once more and land, awarding the player with a final win before the Bonus ends.
Players who fill the screen with Wild symbols are awarded 25x the six-of-a-kind Wild symbol award, plus a bonus of a whopping 1000x stake for huge rewards.
Inspired's dual Gamble feature allows players to gamble for more cash or to increase their chances of triggering the Bonus, offering them a chance for more Wild riches. With two RTP versions available—94.51% and 91.98%—players can join the party, spin the reels, and let Wild Party Jokers take them on a wild ride of big wins.
Claire Osborne, Vice President of Interactive at Inspired, said: "We are proud to present the first of our winter lineup, with each title boasting captivating themes, innovative gameplay features, and top-quality graphics.
"Our teams are committed to creating a diverse content portfolio, varied in themes and mechanics, that caters to a wide range of player preferences. I'm certain these three exciting games will capture the hearts of gamers across the world in search of a fun casino experience."
Head over to Inspired's website to sample Inspired's online and mobile games here: https://inseinc.com/interactive/games
Ends
About Inspired Entertainment, Inc. (Nasdaq: INSE) 
Inspired offers an expanding portfolio of content, technology, hardware and services for regulated gaming, betting, lottery, social and leisure operators across land-based and mobile channels around the world. Inspired's gaming, virtual sports, interactive and leisure products appeal to a wide variety of players, creating new opportunities for operators to grow their revenue. Inspired operates in approximately 35 jurisdictions worldwide, supplying gaming systems with associated terminals and content for approximately 50,000 gaming machines located in betting shops, pubs, gaming halls and other route operations; virtual sports products through more than 32,000 retail venues and various online websites; digital games for 170+ websites; and a variety of amusement entertainment solutions with a total installed base of more than 16,000 terminals.  Additional information can be found at www.inseinc.com.
Forward-Looking Statements
This news release contains "forward-looking statements" within the meaning of the "safe harbor" provisions of the U.S. Private Securities Litigation Reform Act of 1995. Forward-looking statements may be identified by the use of words such as "anticipate," "believe," "expect," "estimate," "plan," "will," "would" and "project" and other similar expressions that indicate future events or trends or are not statements of historical matters. These statements are based on Inspired's management's current expectations and beliefs, as well as a number of assumptions concerning future events.
Forward-looking statements are subject to known and unknown risks, uncertainties, assumptions and other important factors, many of which are outside of Inspired's control and all of which could cause actual results to differ materially from the results discussed in the forward-looking statements. Accordingly, forward-looking statements should not be relied upon as representing Inspired's views as of any subsequent date and Inspired does not undertake any obligation to update forward-looking statements to reflect events or circumstances after the date they were made, whether as a result of new information, future events or otherwise, except as required by law. You are advised to review carefully the "Risk Factors" section of Inspired's annual report on Form 10-K for the fiscal year ended December 31, 2022, and in subsequent quarterly reports on Form 10-Q, which are available, free of charge, on the U.S. Securities and Exchange Commission's website at www.sec.gov and on Inspired's website at www.inseinc.com.
Contacts:
Investor Relations
IR@inseinc.com
+1 646 277 1285
For Press and Sales
inspiredsales@inseinc.com
www.inseinc.com
@Inspired_News