INSPIRED DEBUTS COMPELLING HARDWARE AND FEATURE-RICH CONTENT AT ICE 2023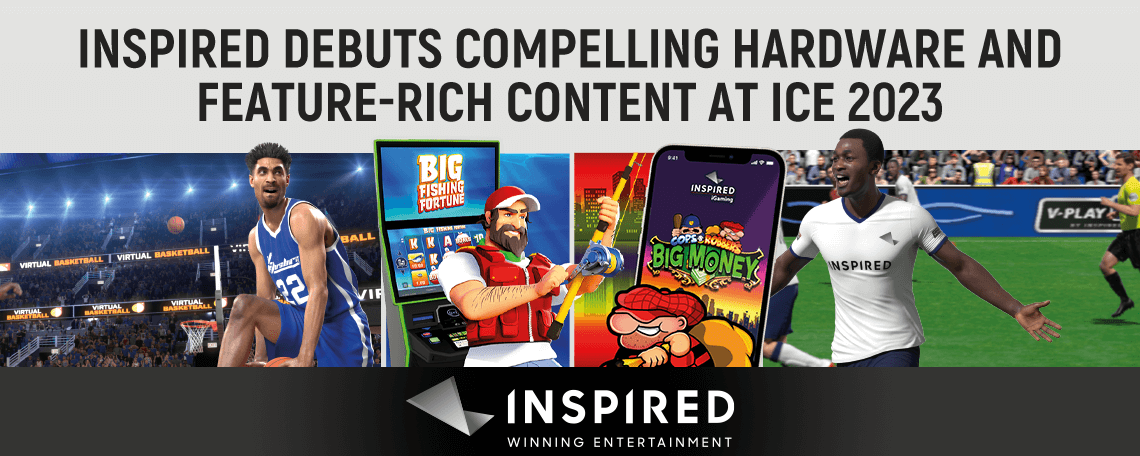 New Inspired Products and Gaming Industry Firsts Showcased at Inspired Booth #S2-310  
NEW YORK, NY. February 6, 2023 –Inspired Entertainment, Inc. ("Inspired") (NASDAQ: INSE), a leading B2B provider of gaming content, technology, hardware and services, will once again be showcasing its suite of entertaining and differentiated cross-platform content in Booth #S2-310 at this year's ICE tradeshow in London from February 7-9.  Highlights will include Inspired's new Vantage™ server-based ready cabinet, its feature-rich omni-channel content, the ground-breaking licensed Home Run Shootout Legends™ virtual baseball game and NFLA Legends Football™, and the first and only Women's Virtual Soccer™, just to name a few.
"ICE is the biggest B2B gambling industry event in the world, and a great opportunity for customers to experience the strength and breadth of the product offerings that make Inspired 'Winning Entertainment,'" said Brooks Pierce, President and Chief Executive Officer of Inspired.  "We always strive to make great games that wow players and ICE patrons will be able to see our ground-breaking innovations at the Inspired booth, along with a few surprises. This diverse portfolio is strengthened and broadened with our brand-new Vantage cabinet, being showcased for the first time at ICE, which gives operators a premium suite of gaming cabinets, content and features that is sure to 'win' over players," concluded Pierce.
Strong Suite of Gaming Cabinets  
With more than 50,000 gaming devices installed, Inspired is a leading provider of iconic games across the industry. ICE visitors will be able to see Inspired's strong suite of customized content and premium cabinets that are outperforming in key markets.  This year, the Company is debuting its Vantage server-based ready cabinet, which is powered by an intelligent operating system that can deliver content to address the preferences of every player, whether they are looking for time-on-device or larger jackpots, and allows players to search, sort and swipe for games in record time and with supreme quality.
The Valor® multi-game video lottery terminal ("VLT") continues to impress in the North American market, with its latest placement of 820 units into Saskatchewan for Western Canada Lottery Corporation.  ICE patrons can play some of the titles that are giving Valor such strong comparative performance, including the fiery Burn7sBurn™ wide area progressive (WAP), the ham-some Big Piggy Bonus™ WAP and the Egyptian-themed Scarab Gold™.
Omni-Channel Game Themes
Inspired has a proven track record of creating feature-rich games that deliver exciting experiences for regulated gaming, betting, lottery, social and leisure operators across land-based and mobile channels worldwide. At Booth #S2-310, attendees will see how Inspired's games work across its product portfolio.  The strongest performing slot themes, including Gold Cash® and the player-popular Cops 'n' Robbers® family of games, will be on display on multiple gaming platforms, including our new Community three-player version. The newest game offerings feature an exciting key mechanic, Fortune Spins, that can be switched on and chosen as an alternative to spinning the normal base-game reels.
Other cross-platform favorites will also be on display. Big Fishing Fortune™, which was nominated for Eilers & Krejcik Gaming, LLC  Top Performing NEW Online Slot, can be played on a gaming cabinet, online or on a mobile device. Space Invaders®, bringing a bit of 1980's gaming nostalgia is available for Gaming and iGaming customers as well as pub, holiday park and motorway service customers in the UK.  The popular Scarab Gold™, an ancient Egyptian retail and online game has been transformed into an exciting iLottery game. And last but not least, Clockwork Orange™, an instantly recognizable iconic brand, is also joining the stellar line-up of high performing community games for our Fortune Community product.
Adding to Inspired's powerful brands, ICE is a great opportunity to see Inspired's three "big" must-have, must-play, innovative Free Spin bonus mechanics: Big Bonus, Big Spin Bonus and Big Fortune. These bonus mechanics are now offered in many of Inspired's retail and iGaming games with the aim to keep players spinning and collecting wins. Big Spin Bonus was nominated for an Eilers & Krejcik Gaming, LLC Slot Award in the Top Performing Online Slot category and Most Innovative Online Game.
Inspired will also be debuting its new leaderboard functionality at this year's ICE.  This leaderboard functionality gives operators and venues a tool to draw in players and provides an additional incentive to play. Route venues can use leaderboards to introduce a competitive and promotional element to game play, adding a new play dimension that evokes the familiarity and nostalgia of traditional ranking tables – think Space Invaders high score board.  The leaderboard's easy-to-use interface empowers venues to set up and host customized tournaments with minimal effort.
Ground-Breaking Virtual Sports
ICE is the place to see Inspired's award-winning Virtual Sports, featuring officially licensed products from all-time great MLBPAA and NFLA players. Inspired's ground-breaking Home Run Shootout Legends game pits renowned players, including Babe Ruth and Mickey Mantle, in a home run hitting competition with a wide range of bet markets, including shootout winner, over/unders and total home runs scored. For football fans, the NFLA Legends Football brings favorite retired NFLA legends back to the field in a fast paced visually entertaining contest with multiple betting markets including spread, money lines and parlays.  And, leading up to the Women's World Cup, Inspired is the first and only provider to showcase a Women's Virtual Soccer product.
The popular Horses Chase, the only virtuals horse race available with 40 runners, will also be displayed at ICE, as well as a new US Horses with legendary play-by-play announcer Larry Collmus.  Inspired does not limit the virtual fun to sports. The super simple Marblesproduct is thrilling and easy to play, making it a fan favorite with a variety of different tracks and obstacles to create unpredictable endings.
Please visit Inspired's ICE booth to experience the strength and breadth of the product offerings that make Inspired "Winning Entertainment." 
About Inspired Entertainment, Inc. (Nasdaq: INSE)  
Inspired offers an expanding portfolio of content, technology, hardware and services for regulated gaming, betting, lottery, social and leisure operators across land-based and mobile channels around the world. Inspired's gaming, virtual sports, interactive and leisure products appeal to a wide variety of players, creating new opportunities for operators to grow their revenue. Inspired operates in approximately 35 jurisdictions worldwide, supplying gaming systems with associated terminals and content for approximately 50,000 gaming machines located in betting shops, pubs, gaming halls and other route operations; virtual sports products through more than 32,000 retail venues and various online websites; digital games for 170+ websites; and a variety of amusement entertainment solutions with a total installed base of more than 16,000 terminals.  Additional information can be found at www.inseinc.com.   
Contacts 
inspiredsales@inseinc.com
Forward-Looking Statements
This news release contains "forward-looking statements" within the meaning of the "safe harbor" provisions of the U.S. Private Securities Litigation Reform Act of 1995. Forward-looking statements may be identified by the use of words such as "anticipate," "believe," "expect," "estimate," "plan," "will," "would" and "project" and other similar expressions that indicate future events or trends or are not statements of historical matters. These statements are based on Inspired's management's current expectations and beliefs, as well as a number of assumptions concerning future events.
Forward-looking statements are subject to known and unknown risks, uncertainties, assumptions and other important factors, many of which are outside of Inspired's control and all of which could cause actual results to differ materially from the results discussed in the forward-looking statements. Accordingly, forward-looking statements should not be relied upon as representing Inspired's views as of any subsequent date and Inspired does not undertake any obligation to update forward-looking statements to reflect events or circumstances after the date they were made, whether as a result of new information, future events or otherwise, except as required by law. You are advised to review carefully the "Risk Factors" section of Inspired's annual report on Form 10-K for the fiscal year ended December 31, 2021, and in subsequent quarterly reports on Form 10-Q, which are available, free of charge, on the U.S. Securities and Exchange Commission's website at www.sec.gov and on Inspired's website at www.inseinc.com.